Are you searching for a disc golf bag? If you're like us and have collected quite the inventory of discs, you may need to upgrade your disc golf set-up with a long-lasting bag. Good news, you've come to the right place. We have a few tips to help you find the best gear for your game.
There are two main styles for disc golf bags: over-the-shoulder and backpack-style. Over-the-shoulder bags are generally lighter and offer less storage space. Our G2 Series bag is perfect for a quick on-the-go round, field work, or a speedy 9-hole course. The single shoulder strap allows the bag to be dropped and picked up quickly for smooth and fast transitions between throws and offers space for 8-12 discs. The G2 Series is also a great bag for kids or youth disc golfers.
Backpack bags allow the bag's weight to be placed on your back, which is excellent for rough terrain courses, as each of our backpack bags is equipped with a chest strap to help support the bag during any hiking excursion on your round. You can store more discs comfortably with this style, from a smaller CS2 bag that holds up to 16 discs to our AX5 model that can securely hold 27 discs.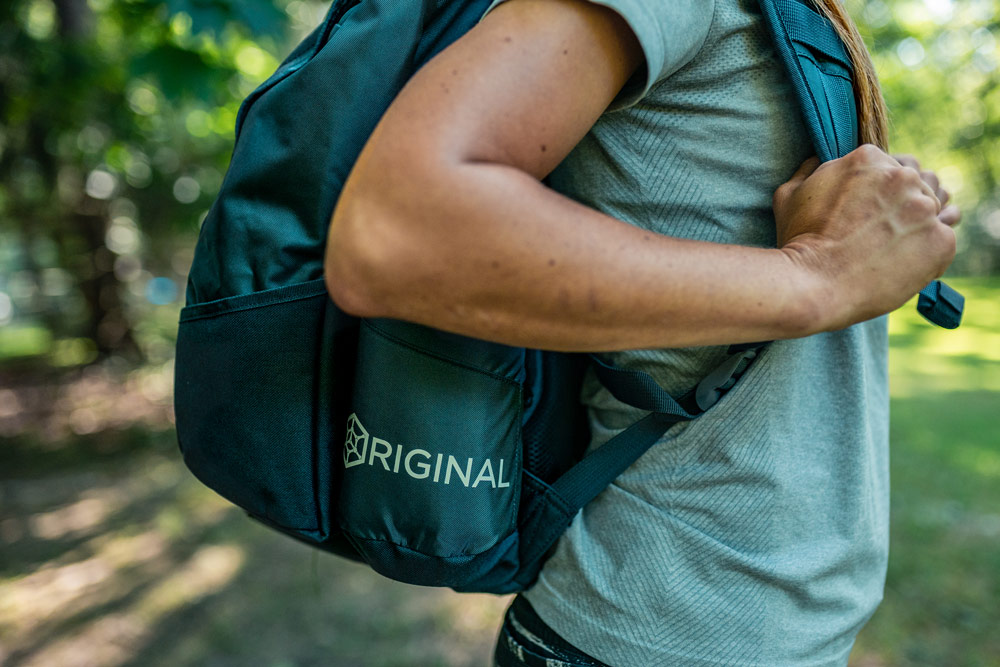 What essentials do you need on your round? Bug spray, extra towels, a sweatshirt? Or do you pack light and want to head out the door for a fast game of disc golf? GRIPeq offers two styles of side pocket storage; expandable side pockets and a dual-purpose zippered pocket.
With a dual-purpose zippered pocket on both sides of our CS2 and G2 Series bags, you can store your water bottle or beverage of choice on one side and another drink or a few accessories in the other pocket. If you need more storage for your disc golf adventures, our expandable side pockets on all our AX, BX, and CX models can store items such as an XL sweatshirt, raincoat, or all your tournament gear, including a Bushnell, snacks, extra towels, and more.
And though it may look small, our G2 series bag has a unique back pocket that can fit a packable raincoat, snacks, and a towel or socks, so you can always be ready for whatever the course throws your way.
Most importantly, you must consider how many discs you carry and need in your bag. Many GRIPeq touring pros use a BX3 or AX5 bag to fit all the discs they need, which may include duplicates or backups of specific molds to have on hand if any discs get lost in the water or woods. To be the most comfortable on the course, you may want to carry the smallest bag model you need to fit your entire disc selection. You can view all our available bag models by disc storage size here:
GRIPeq is here to help carry you through your rounds. Still have questions about which bag is best for you to take on the course? Feel free to contact our customer service team at makeflight@grip-eq.com for any assistance in choosing your next disc golf bag.