If you're a disc golfer, investing in a high-quality disc golf bag is a must to keep your physical and mental energy at an all-time high so you can attack the course with confidence. Here are ten reasons why:
A high quality disc golf bag should be comfortable to carry around, even at full capacity. When choosing a disc golf bag, you'll want to ensure the shoulder straps have padding to give you ultimate support through the course. All GRIPeq bags have padded shoulder straps to prevent aches or red marks on your shoulders or arms, and your physical energy is ready for each shot, so you can always play at your best. The back of each GRIPeq backpack disc golf bag provides ventilation for airflow and premium back comfort, including a lumbar pocket. You can add towels to the lumbar pocket to increase or decrease the support needed on your lower back. We know all disc golfers' bodies are different, and as a group of disc golfers ourselves, we're confident we've built a comfortable bag for any player.
A disc golf bag should have plenty of space to store all your disc. GRIPeq currently offers five different-sized models of disc golf bags to suit any game style. A high quality disc golf bag company should provide you with enough size selections to fit your exact needs on the course. Determine how many discs you need to carry, and find which bag complements your style best with our sorted-by-size resource. Ultimately, your ideal disc golf bag will fit all the discs you need to throw any shot on the course, keeping you relaxed, knowing you have everything you need in your disc golf bag to be successful.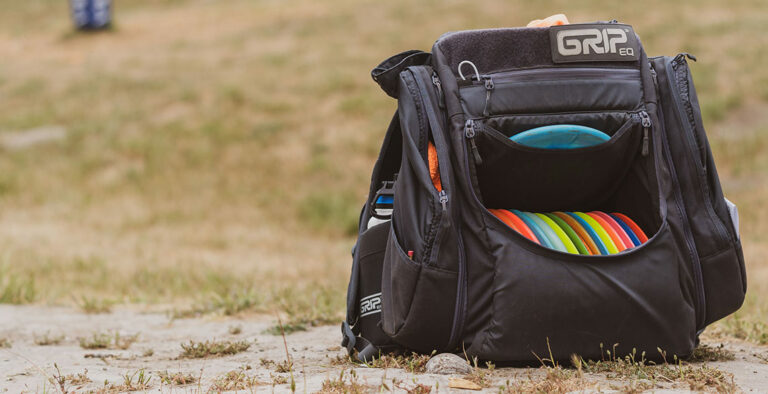 To provide you with peace of mind, it's important to have a designated pocket for your phone, wallet, and keys. Our GRIPeq backpack bags have a front pocket that unzips to reveal compartments for your valuables. Additionally, there's a keychain hook to keep your keys securely attached, preventing them from falling out of your bag. Enjoy the course without worrying about where your valuables are, and choose a bag that combines convenience and security while hiking the course.
A disc golf bag with extra pockets and compartments can keep all your accessories organized. When you're playing a long, competitive round, you'll want to carry everything you may need to provide you with the most success for your scorecard. This could include snacks, a Bushnell, an extra layer, a raincoat, and bug spray or sunscreen. Our expandable side pockets on every GRIPeq CX1, BX3, and AX5 model can unzip to provide additional storage space, so that layer you threw on at the beginner of your round can fit comfortably in your side pocket, keeping your hands free during your round and ready for your next shot. And be sure your bag is equipped with D rings to attach disc golf towels!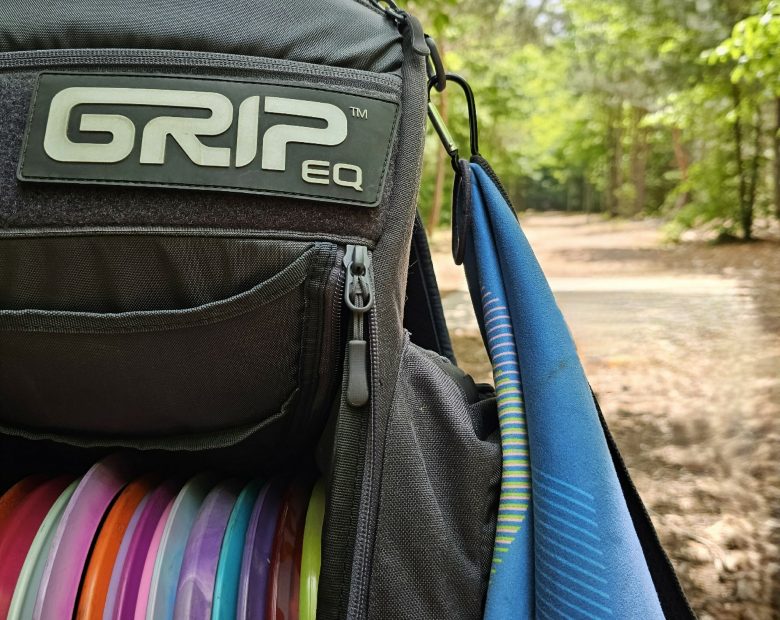 Choose a bag that makes staying hydrated easy. Ideally, you will have enough storage for beverages to last even the most challenging terrain courses. That's why GRIPeq bags can securely hold a water bottle on both sides of each bag. And our expandable side pocket models feature insulated bottle pockets that keep drinks cold during your round, as well as feature a small slit in the bottom to easily drain away any condensation so our bag and its contents stay dry. They are also spacious enough to accommodate bottles of different sizes so you can bring your favorite drinks with you on all your rounds.
Look for a bag from a trusted brand. Do the pro disc golfers use their bags? On Team GRIPeq, we have pros competing in disc golf tours around the globe, and they all rely on and trust the high quality product we provide. A handful of pros have had the honor of developing their own GRIPeq bag design, called our Signature Series, which features designs and styles the pro collaborates on with our product development team. We know they trust our disc golf bags to get them through any round, and our customers have trusted us, too, since the development of the first GRIPeq disc golf bag in 2009.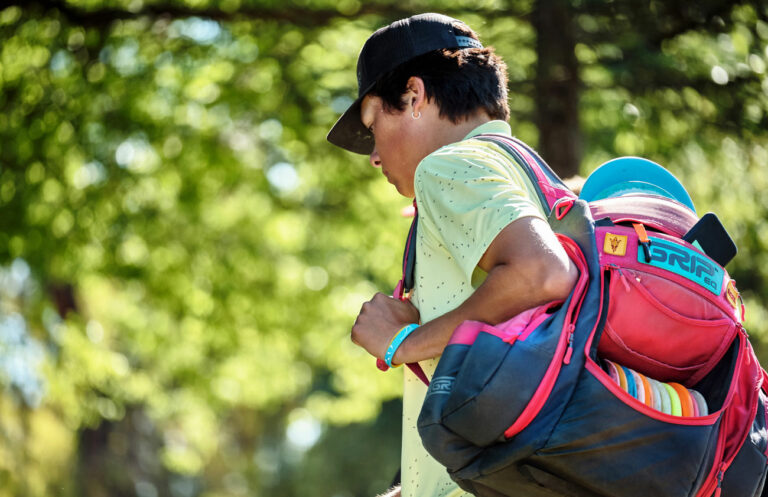 A bag made from high-quality materials will last you for many years; make sure you're looking for a bag that can withstand even the most demanding course terrain and weather. GRIPeq bags are all equipped with plastic bottom footrails to prevent wear on the bottom of the bag. Combined with the power of our footrails, the side panels help support the bag to stay upright even on a slopping green, preventing the bag from tumbling down or tossing out your discs. The fabric is constructed from durable double-layer 10000/420D nylon, which keeps it from snagging and makes it ready for any outdoor adventure.
Many bags come with options for customization, allowing you to add your own personal touch. Think about how you want to decorate your bag before purchasing. An area designated for velcro patches will help you rep your favorite pro logos, and plenty of pocket space will allow for disc golf pins to attach easily. All GRIPeq bags come with a logo patch to match the bag. If you're looking for more patches, check out our selection here to add your flare to any GRIPeq velcro field!
Investing in a bag with a lifetime warranty is a wise decision as it demonstrates the manufacturer's confidence in their product. At GRIPeq, we are committed to creating top-notch and long-lasting disc golf bags that cater to the needs of players worldwide, whether they are amateur or professional. We have dedicated years to designing our bags and providing excellent customer service to help you get the most out of your disc golf bag.
10. Made for Disc Golfers, By Disc Golfers
A bag designed specifically for disc golfers will have all the features you need to enhance your game. At GRIPeq, you can trust that disc golfers have tested our durable bags for nearly 15 years. Our crew loves to play this fast-growing sport, and our product development team has been playing disc golf for years; they know exactly what makes a disc golf bag high quality and ready for the course. Upgrade your equipment today with a bag you can trust; view all our available bag models here and see why we're proud to support the disc golf community.