GRIPeq G and G2 Series bags are the perfect grab-and-go bag for quick trips, keeping in the car, beginners, and youth disc golfers. Below are tips to optimize your G-series usage, as well as showcasing standard GRIPeq features that shine on these smaller shoulder bags.
Our G-Series disc golf bags differ from the commonly used backpack style in that this smaller bag is designed to be carried on one shoulder. Being that it's held securely with a single-shoulder no-slip grip strap,  traveling around the course is easy. Additionally, it's great for smaller disc golfers. Beginners, children, and competitive juniors will all find comfort using the G-Series disc golf bag.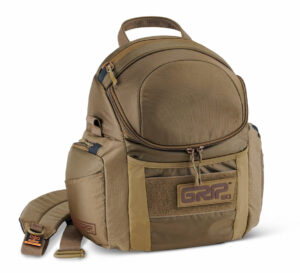 Additionally, you'll experience the same top-notch GRIPeq quality on this smaller disc golf bag. For instance, features like our quick-pull putter pocket, key clip, and pencil sleeves. The G-Series bag has the same style of riveted foot rails as all our other models, keeping the bag lifted from the ground and maintaining the bag's upright position. Also, the added detail in the G-Series construction features a magnetic scorecard holder on one side of the bag. You can keep score confidently knowing you'll have access to the scorecard no matter the course conditions.
Another notable feature is the expansive back storage pocket. Though it may not look it, this pocket can fit a packable rain jacket, Bushnell, sunscreen, disc golf towels, and all the snacks. We recommend utilizing this pocket, as it's engineered to keep the discs straight up and down. When full, the items in the pocket fill the space in the bottom of the bag where the bottom compartment of discs sit. Lastly, this pocket is home to the key clip, so your keys can be secured inside your bag.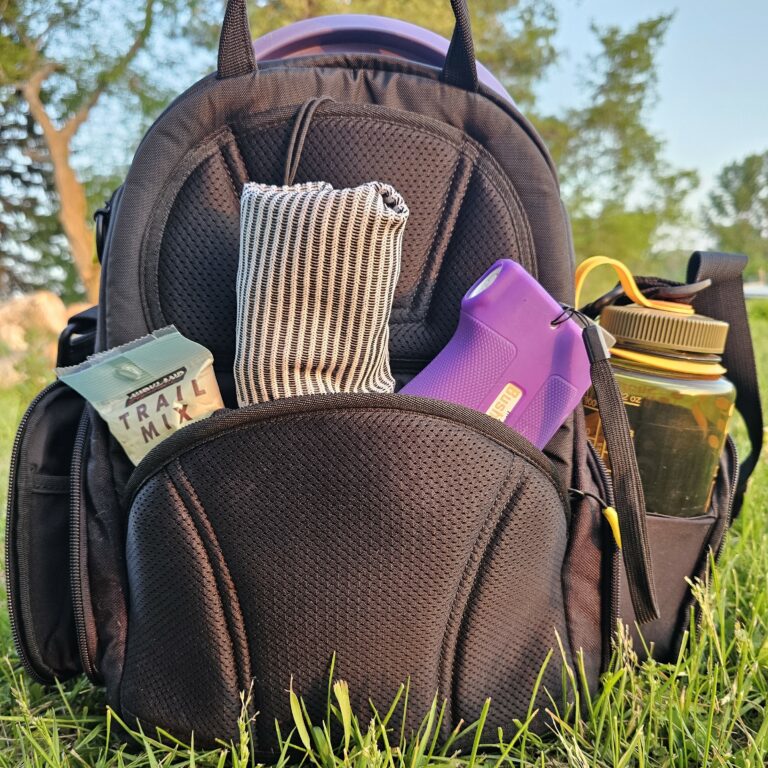 Loading Up Your GRIPeq G-Series Bag
The G-series disc golf bag's disc storage is divided into three main sections. When you look at the bag head-on, the section nearest to you is called the Main Compartment. It can store five to six driver or midrange discs. This section is at the bottom of the main pocket and works best when items are stored in the back pocket, as mentioned above. Accessories such as disc golf towels or a packable layer will assist in straightening how the discs sit. 
The next pocket to load is the Center Compartment. This elevated pocket is perfect for two to three midrange or approach discs. 
Finally, the third section is the quick pull Top Pocket. This space is ideal for two putters, stored at your desired height using the adjustable easy-to-use quick-pull mechanism.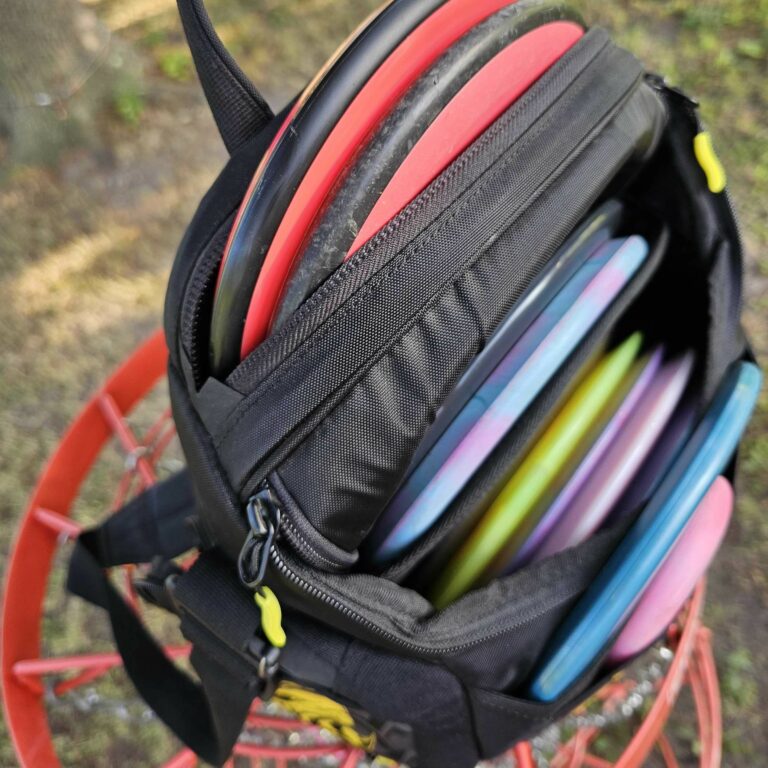 In addition to the compartments and pockets listed above, there is also a front facing exterior elastic pocket that can hold one driver, mid, or approach disc for easy access during your rounds. Another smaller elastic pocket sits right in front of that disc pocket. Place a mini or small disc golf accessory in that section for easy access. 
Need even more space to store your disc golf gear? The G-series disc golf bags feature a zippered side pocket on each side of the bag. When unzipped, these storage pockets will hold up to a 32oz size water bottle to ensure you're hydrated on the course. They are also great for storing extra snacks, dirt or chalk bags, and other small accessories. Be sure to take advantage of the slot on the outside for a mini so it's ready to go, and you can confidently walk up to your next putt.
The Perfect On-The-Go Disc Golf Bag
The GRIPeq G and G2 Series disc golf bag has become a fan-favorite travel bag. These single-shoulder strap disc golf bags are the perfect size to have loaded with your go-to discs and ready for a quick round after work. It's also a disc golfer's dream to make practice easy, whether you load it up with drivers and head to the field or fill it with putters for getting in repetitions on a practice basket. 
Now designed with a velcro field for personalizing patches, head to the link here and view the latest G2 Model: https://grip-eq.com/gear/g2/