You bought a disc golf bag, and now you're ready to decorate it to match your personal style. Here are our top tips for keeping your disc golf bag in great shape while adding your own customization.
Disc Golf Pins and Keychains
At this point, you've probably noticed disc golf bags adorned with pins at your local course. Pins are a fantastic way to add personality to your bag and display your support for your favorite disc golf brands or pros, or to promote your interests outside of disc golf. However, since pins are sometimes deemed a modification to the bag, you must exercise caution when selecting where to place them to avoid causing damage to your gear. It's crucial to secure your pins in areas of the bag that can be easily accessed from both the front and back of the fabric; that way, you can securely lock the pin in place. Many disc golfers choose to attach pins to the side pockets of their GRIPeq bag or the front main compartment flap, allowing the flap to hang loose and lift to retrieve discs, ensuring the pins are always visible and centered. You can also place them on the velcro strip.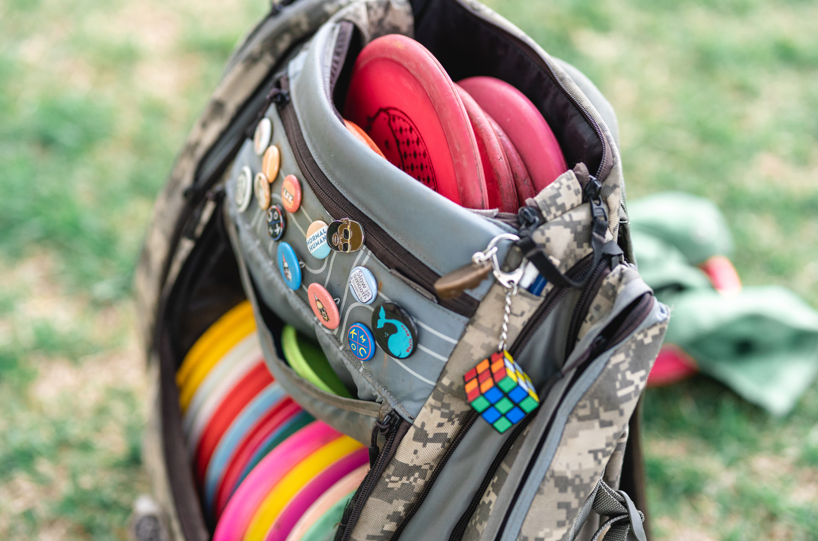 Keychains and zipper pulls are another fun way to keep your bag looking unique. You'll see pros attach personal keychains to their bags, and whether they are meaningful or silly to the individual, they are there to bring a smile to their face during what could be a tough mental round. You can also replace the zipper pulls on your bag with a new colorful set, either matching the discs inside your bag or showing off your favorite colors.
If your disc golf bag has a velcro area, you have plenty of velcro patches to choose from for customization! Velcro patches are the easiest way to personalize your disc golf bag, as they can be rearranged easily for whatever mood you're in. Plenty of pros have their own logo patches that can be attached to your bag, too. From the G2 Series to the AX5, the current standard line of GRIPeq bags feature a large velcro field in the front of your bag, so you can fill the entire width with patches that make you feel good.
At GRIPeq, we offer velcro patches that can be conveniently included in your disc golf bag order or purchased separately. In addition to making your bag look cool, all Team GRIPeq players receive 50% of the sales of their patches, so you can support your favorite pro and rep their patches with pride on all your disc golf adventures.

To browse our existing collection of disc golf patches, follow the link here: https://grip-eq.com/category/gear/accessories/patches/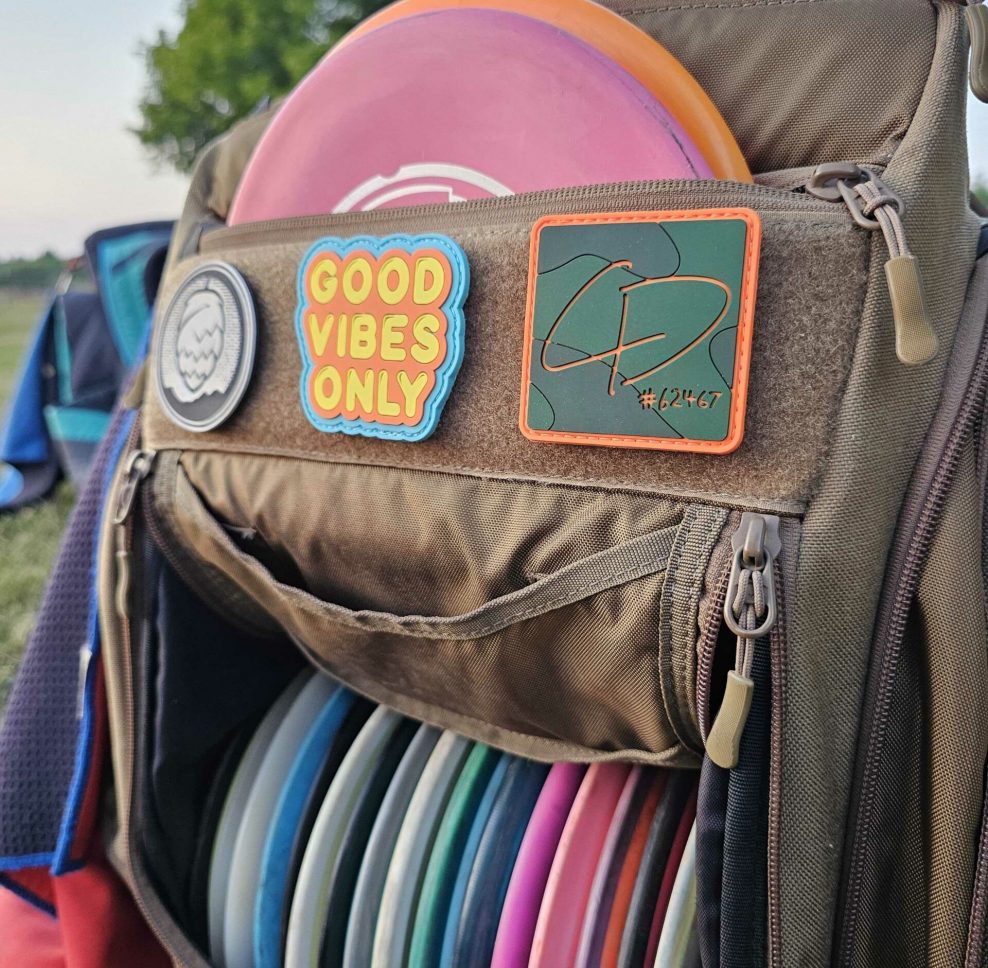 Creating a Positive Mindset
It's essential to have a solid mental game to play your best. Sometimes, a simple memory or even a decoration on your bag that makes you smile can put your mind at ease and let you play great golf. We hope you find that accessory and display it proudly on your disc golf bag to keep those birdies on your scorecard.